Motion Dynamics™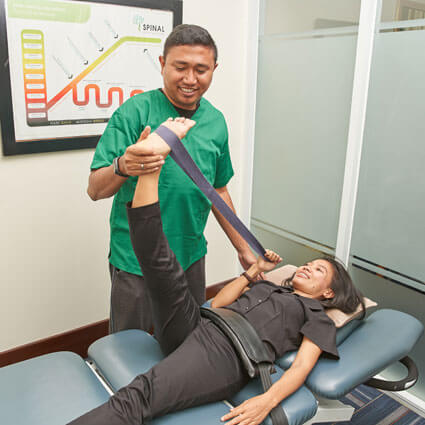 Motion Dynamics is an innovative fitness program that encourages corrective postural and biomechanical movements. When you are on the program, you will likely feel inspired to live an active lifestyle by learning to move your body intelligently. Pre-habilitation and prevention of injury are our primary goals.
The culmination of nearly 20 years hands-on experience, Motion Dynamics is focused on gait, movement mechanics and locomotion. Combined with over 20,000 hours of hands-on therapy, Chris Watts developed this new system to promote healthy exercise and smart fitness.
An Evidence-Based System
Motion Dynamics is a scientific, evidence-based flexibility and stability system. It resets the fundamental anatomical movements of joints, ligaments and muscles. Motion Dynamics employs a multi-disciplined, multi-layered approach to straighten posture and re-pattern the body's motion. A key objective of Motion Dynamics is to return your body to optimal alignment, flexibility and stability.
At Spinal Health and Wellness, we offer 30-minute and 60-minute sessions. We often use Motion Dynamics in conjunction with spinal correction. However, this fitness program is also a stand-alone service that patients come in for.
Your mother may have told you frequently to stand up straight or to stop slouching. That's because good posture can help you enjoy better health and have a more positive mental outlook.
So what is good posture? Standing up straight, the view from the front or back should reveal a spine that is aligned from the top of the head through the pelvis all the way down to the bottom of the feet. The side view should show a spine that has three natural curves — at the neck, the mid-back and the lower back. The spine should not be curved to the left or the right.
Pain-free movement
Greater flexibility
Improved balance and coordination
Increased energy level
Elevated confidence level
Reduced stress and anxiety
Optimism and positive attitude
Optimal athletic performance
Ability to breathe deeply
More youthful appearance
Staying active longer
Book an Appointment
Would you like to find out if our Motion Dynamics South Jakarta program can benefit you? Contact us today to schedule an appointment!

Motion Dynamics Pondok Pinang, South Jakarta | 021 751 3876