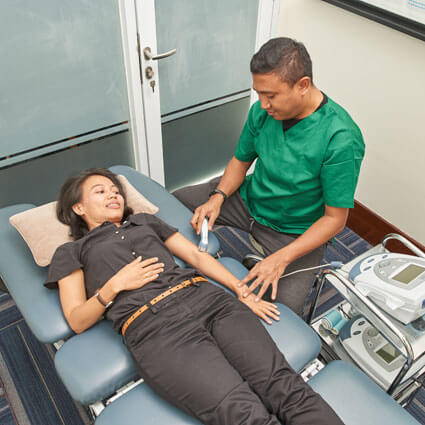 Physiotherapy
Whether you sustained an injury playing badminton, football or another sport or became injured following an automobile accident, we want to assist you. It's our objective to get you on the path to healing.
At Spinal Health and Wellness, our specially trained physiotherapists work together with our doctors to design your treatment and rehabilitation programs. The programs the doctors create for the patient are overseen by the physiotherapists we have on staff.
What Is Physiotherapy?
This type of therapy focuses on the science of movement. Physiotherapy helps people to restore, maintain and maximize their physical strength, function, motion and overall well-being by addressing the underlying physical issues.
At our practice, we offer the following modalities: ultrasound, Kinesio Taping®, infrared, ice compresses and electrical stimulation.
As we can offer patients an extensive array of services under one roof, they can get the healing help they need without having to visit multiple practitioners' offices.
Acute Spinal Care: If you've suffered a spinal injury, we can provide drug-free care to provide relief and promote healing.
Rehabilitative Spinal Care: Whether you're suffering from back pain, sciatica or another spinal issue, the various treatments we feature may help you heal.
Decompression Therapy: We consider spinal decompression therapy to be the most advanced, non-surgical, and pain-free alternative in treating back and neck pain. Gentle and safe, the therapy targets problem areas of the neck or lower back. An objective of spinal decompression therapy is to return spinal discs to their proper alignment and function.
Stretching Programs: (including the exclusive Motion Dynamic™ program offered at our office) Stretching can promote joint movement and flexibility so you can return to your everyday tasks without pain.
Sports Injury and Soft Tissue Treatment: We can assist athletes of all levels who have been injured as a result of their sport. These include ankle sprains, tennis elbow or golfer's elbow. Soft tissue treatment is a type of manual therapy that treats different kinds of soft tissue injuries.
Exercise Rehabilitation: Our physiotherapists can provide you with specially designed exercises to help you recover from an injury.
Home Care Program: To further your care, our physiotherapists will create a personalized home care program, including specific exercises that will help you achieve your goals.

No, it's not necessary to get a doctor's referral to make an appointment with us.
How long will my appointment last?

Each physiotherapy visit takes approximately 45 minutes. At your visit, you will have a one-on-one session with your physiotherapist. Depending on the particular treatment you receive, your appointment may be longer.
What can I expect for my first appointment?
During your initial appointment, you will receive a thorough assessment. The physiotherapist will go over your medical history and ask several questions about your particular injury.
Next, you will have several types of tests, including range of motion and muscle strength testing. The objective of these tests is to identify what is aggravating your injury and then what relieves it.
Your physiotherapist will then provide you with some type of treatment. We want to help provide some pain relief and get you started on the path to recovery.
How should I dress?

Ideally, it's preferable if you wear loose-fitting clothing so that the area being evaluated and treated will be exposed. For example, you should wear shorts if you have a problem with your knee. If you have an issue with your shoulder, then consider wearing a tank top. For low back problems, it's a good idea to wear a loose-fitting shirt and pants.
Is spinal decompression painful?

No. Most patients who see us for our spinal decompression patients don't report any pain. Many find spinal decompression to be relaxing, not only physically but mentally.
How often should I come?

As every person and every injury are different, the frequency of care will vary. After your physiotherapist provides an assessment, you will be given a better idea of how often you should come in to get optimal results regarding your healing.
What do I need to do after my treatments?

For some patients, performing exercises at home will be recommended. Some may opt to continue with a gym exercise program. Others will finish their rehabilitation and resume their normal daily activities. It's critical that you communicate your goals to your therapist so that they can design a custom program for you.
Book an Appointment
If you've been injured, we want to help you get back to all the things in life you love. Contact us today to schedule an appointment for physiotherapy South Jakarta!

Physiotherapy Pondok Pinang, South Jakarta | 021 751 3876